Tuna Does Vegas Closes This Weekend - Don't Miss Out!
Join us for the next installment from the Greater Tuna series as theater veterans, Jeff Lathrop and Rick Gaylord reprise their roles from Greater Tuna (2009) and Red, White and Tuna (2015) and introduce a some new colorful friends in Tuna Does Vegas!
Thursday, March 30, 7 p.m. ($13 Thursday Show!)
Friday, March 31, 7 p.m.
Saturday, April 1, 2 p.m.
Sunday, April 2 at 2 p.m.
Rick Gaylord and Jeffery Lathrop bring the town of Tuna to life with its silly citizens, hilarious situations and flamboyant costumes. -- Mt. Democrat

A great night at Imagination Theater! Tuna does Vegas is hysterical. The new characters are outrageous! -- Kathleen M.

Loved, loved, loved Tuna! Laughed til my stomach hurt! -- Patricia P.
Reserve Tickets Now Online
or order by phone at 1-800-838-3006
Parking is free for theater patrons. When other events are held at the fairgrounds, you will be directed where to park. Tickets are also available at the door.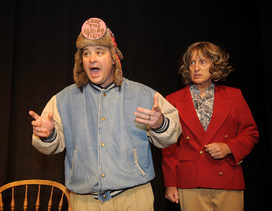 Photo from the Mt. Democrat